---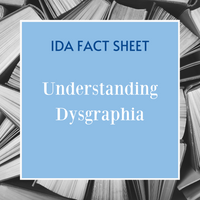 The Understanding Dysgraphia Fact Sheet from the International Dyslexia Association (IDA) covers popular topics such as:
What is dysgraphia?
What causes dysgraphia?
Does dysgraphia occur alone or with other specific learning disabilities?
Why is diagnosis of dysgraphia and related learning disabilities important?
What kinds of instructional activities improve the handwriting of children with dysgraphia?
Do children with dysgraphia make reversals or other letter production errors?
What kind of instructional strategies improve spelling of children with dysgraphia?
Are there research-supported assessment tools for diagnosing dysgraphia?
References and resources for assessment and instruction also included.