---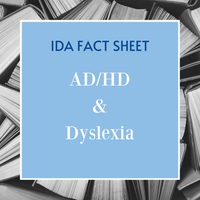 The Attention-Deficit/Hyperactivity Disorder (AD/HD) and Dyslexia Fact Sheet from the International Dyslexia Association (IDA) covers popular topics such as:
How are AD/HD and dyslexia diagnosed?
Is AD/HD over-diagnosed?
Can individuals inherit AD/HD and dyslexia?
Are there characteristics that individuals with AD/HD and dyslexia have in common?
Have neurological studies shown functional and/or anatomical differences in the brains of people with AD/HD as compared to dyslexia?
What is the outlook for children with dyslexia and AD/HD?
References also included.