---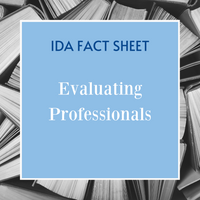 The Evaluating Professionals Fact Sheet from the International Dyslexia Association (IDA) covers popular topics such as:
How do I know if a professional is reputable or qualified?
How do I know if a particular professional is the right person to work with my child?
Is testing and evaluation necessary to diagnose dyslexia?
How long does instruction need to continue? How often? What progress can I expect?
What are reasonable expectations for communication among school staff, independent educational professionals, and family?
What policies, fees, and scheduling considerations are typical for working with an independent educational professional?

It is your responsibility to ask about policies and fees in advance of hiring a professional.

Does insurance cover the costs of testing or fees for specialized instruction?
References also included.