---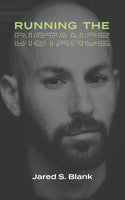 Sale
This text now comes with a link to your very own Companion Workbook.
This Companion text is designed to provide you with an interactive and individualized setting to write and reflect while reading along each chapter.
As soon as your order is complete, a link for your new workbook will be immediately available!
Jared Blank was only five years old when he realized something was wrong. He could already tell that he wasn't like everyone else. He was having trouble learning to read, holding a pencil, using scissors, and tying his shoes. As it turned out, Jared had dyslexia, and he still does. With the help of his family, friends, teachers, and mentors, Jared learned to see his learning obstacles as opportunities. He also pursued sports and running as a way to excel, express himself, and help others. In writing this book, Jared hopes that sharing his challenges and experiences with school, work, and the World Marathon Challenge will inspire others who struggle to run their own distance and know that they do not have to do it alone.
Running the Distance
by Jared S. Blank
Product Details:
Published in: 2019
Format: Soft Cover or Hardcover
114 pages
Fillable Digital Workbook - 28 Pages
Printable Workbook - 28 Pages