---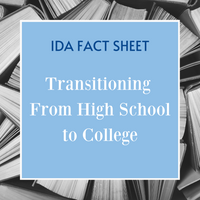 The Transitioning from High School to College Fact Sheet from the International Dyslexia Association (IDA) covers popular topics such as:
Help for Students with Learning Disabilities
When is the best time to start planning the transition?
How can the student secure accommodations on standardized testing (SAT, ACT, and AP tests)?
How does the student prepare the documentation and test application when requesting accommodations on standardized tests?
What services are typically available at college?
When should the student make contact with the college's office of support services?
May students use an IEP or 504 Plan when they attend college?
What are the most basic accommodations offered by colleges and universities?
If a student has a language waiver in high school, can he or she also get one in college?
Should the student disclose a learning disability during the application process?
What should a student with a learning disability look for in a college?
Suggested readings and helpful websites also included.