---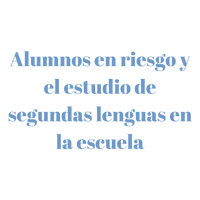 The Alumnos en riesgo y el estudio de segundas lenguas en la escuela Fact Sheet from the International Dyslexia Association (IDA) covers popular topics such as:
¿A los alumnos que tienen dificultad para aprender una segunda lengua usualmente se les clasifica como alumnos con discapacidad en el aprendizaje?
¿Cuál es la naturaleza de las dificultades de aprendizaje de segundas lenguas en alumnos en riesgo?
¿Por qué es difícil para un alumno en riesgo aprobar una clase regular de alguna segunda lengua?
¿Qué tipos de problemas caracterizan a los alumnos que estudian segundas lenguas y que tienen problemas de lenguaje de leves a moderados?
¿Qué tipos de problemas adicionales caracterizan a los alumnos con problemas graves de lenguaje que aprenden segundas lenguas?
¿Qué puede hacer el maestro para ayudar a alumnos que tienen problemas leves a moderados para aprender una segunda lengua?
¿Qué adaptaciones adicionales puede hacer el maestro parabeneficiar al alumno con dificultades graves en el aprendizaje del lenguaje?
¿Los alumnos con dificultades en el aprendizaje de una segunda lengua tienen que estudiar esa segunda lengua en la escuela?
Lecturas sugeridas/Recursos