---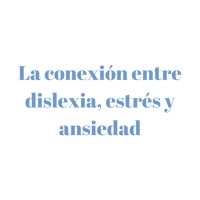 The La conexión entre dislexia, estrés y ansiedad Fact Sheet from the International Dyslexia Association (IDA) covers popular topics such as:
Implicaciones para la ejecución académica y las interacciones sociales
¿Qué es estrés?
¿Cómo puede el estrés ser bueno o malo?
¿Cómo funcionan el estrés bueno y el estrés malo en la dislexia?
¿Qué es la ansiedad?
¿Cuál es la diferencia entre ansiedad y estrés?
¿Cuál es la conexión con la dislexia?
¿Cómo pueden las personas con dislexia liberarse del estrés?
Lecturas sugeridas