---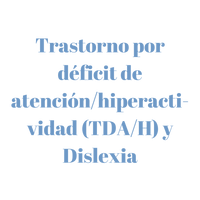 The Trastorno por déficit de atención/hiperactividad (TDA/H) y DislexiaLearning Fact Sheet from the International Dyslexia Association (IDA) covers popular topics such as:
¿Cómo se diagnostican el TDA/H y la dislexia?
¿El TDA/H se diagnostica más de lo debido?
¿Pueden las personas heredar el TDA/H y la dislexia?
¿Hay características en común entre personas con el TDA/H y con dislexia?
¿Los estudios neurológicos han demostrado diferencias funcionales o anatómicas en cerebros de personas con el TDA/H o con dislexia?
¿Cuál es el panorama de niños con dislexia y TDA/H?
Referencias are included.